IIP award TRFS with Silver Accreditation
Friday 3 February 2017
The Richmond Fellowship Scotland Achieves Investors In People Silver Accreditation
The Richmond Fellowship Scotland has achieved the prestigious Investors in People Silver Accreditation. This is the most successful framework for business improvement through people in the UK. It represents a true commitment to employees and demonstrates a solid foundation of good practice which remains challenging and aspirational for many organisations.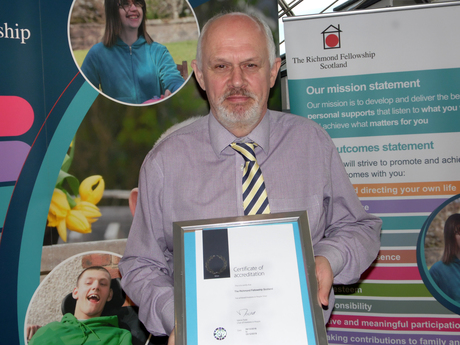 Commenting on the award, Austen Smyth, Chief Executive of The Richmond Fellowship Scotland said, "We were assessed against the new IIP Standards/Framework. Only 5% of organisations going through the new framework have achieved the Silver status so we are very pleased to be in the top 5%."
Peter Russian, Chief Executive of Investors in People Scotland, said "This is a fantastic achievement for The Richmond Fellowship Scotland. I would like to congratulate the organisation and its people on their commitment to continuous improvement."