TRFS Management and Leadership Award Celebration
Tuesday 21 March 2017
On Friday 17 March 2017 the very first graduates of the TRFS Management and Leadership Award received their certificates at Napier University in Edinburgh.
This is a great personal achievement for them, as it was a undoubtedly lot of hard work. Austen, our CEO and all TRFS Directors were there to celebrate this success with our new graduates.
Austen spoke about the importance of this leadership programme for the ongoing growth and development of TRFS. Other speakers included Jackie Johnston, Senior Lecturer Napier University, School of Health and Social Care, and Robbie Pearson, Chief Executive, Healthcare Improvement Scotland. Robbie discussed the importance of "Effective Leadership".
Graduates were presented with their award from Jim Fraser the Chair of The Richmond Fellowship Scotland.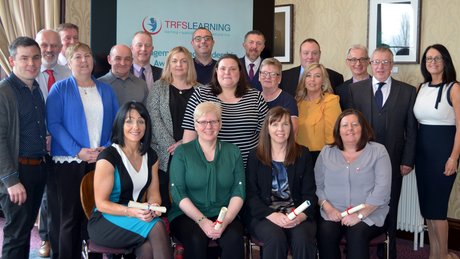 We would like to say well done to everyone. This included : Sharon Barclay - Fiona Bowles - Irene Burns - Tina Campbell - Brain Craig - Pamela Craig - Kara Doolin - Moira Fenton - Alex Gilmour - Marc Grierson - Niall Hay - Paul Hepburn - Theresa Howie - William Johnstone - Louise Lennox - Nicky Lynch - Lynda McClymont - Tom McGhie - Steven Palmer - Alex Paterson - Mark Scott - Gail Stirling