TRFS allocates £80,000 to Participatory Funding in 2017/18
Tuesday 28 March 2017
Austen Smyth, CEO, is happy to announce that we will continue to allocate £80,000 to the People We Support through its Participatory Funding initiative in 2017/18.
This will be the fourth year of this innovative funding initiative. People We Support develop funding "bids" for "outcomes are fun" activities. Bids are then voted on by People We Support at local presentation events.
The energy, creativity and positivity this funding opportunity brings to the lives of People We Support is fantastic. Its gives a great focus for generating ideas and opportunities to put these into practice.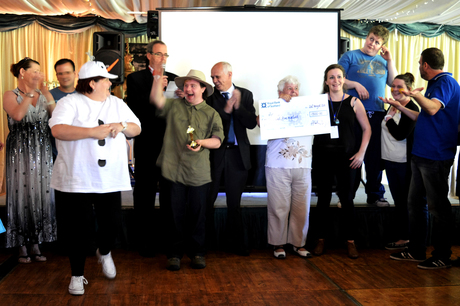 Austen presenting a cheque to a group of successful bidders at one of our Participatory Funding events.
At a time of austerity and funding cuts the ability to focus on creating "fun outcomes" is really positive. Past "outcomes are fun" projects that have been funded have been: a chicken coup (with chickens), a music in the park event, singing for the Brain Group, Blair Drummond Safari Park trip, a fishing group, a dance, a five aside football tournament…..and the list goes on.
During 2016/17 The Richmond Fellowship Scotland's Participatory Funding directly benefited 1485 People We Support.