TRFS launch New Autism Strategy 2017-2020
Thursday 30 March 2017
TRFS launch New Autism Strategy 2017-2020 at World Autism Awareness Event
"Autistic people are ultimate square pegs, and the problem with pounding a square peg into a round hole is not that the hammering is hard work, it's that you're destroying the peg. Let's all work towards NOT destroying the peg and instead, work to change the shape of the hole" Paul Collins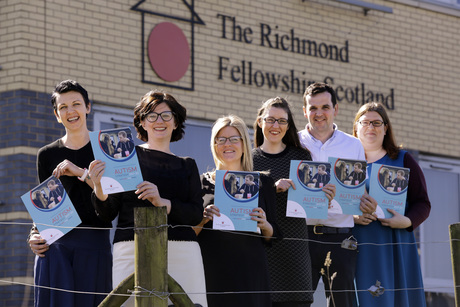 On Monday the 27th March 2017 The Richmond Fellowship Scotland celebrated World Autism Awareness Week by holding a special celebratory event to launch their new Autism Strategy 2017-2020. The celebration was attended by a range of people with autism, family, staff and representatives from the Scottish Government as well as Local Commissioners and Voluntary Organisations.
The strategy was officially launched by MSP Fulton MacGregor who has since supported the aims of the strategy by raising a motion in the Scottish Parliament in support of our new autism strategy. (Click here for further information.)
Dr Anne MacDonald, Head of Complex Needs, discussed the aims of the strategy noting:
"Our goal is to work towards a society where all people with autism are truly accepted and valued by their communities. We believe our services can contribute towards making this a reality.
We aim to be recognised as a best-value provider of specialist, high quality person-centred services which support people to live in their local community."
TRFS are committed to:
Supporting people with autism to remain lining in their local communities or to return to live in their local communities.
Providing the best possible services to people with autism
Treating people with autism with respect and dignity at all times
Recognising and valuing the uniqueness of each person with autism
Engaging with people with autism in decision-making about their service
The event was supported by a range of dynamic and inspiring speakers who spoke passionately about autism.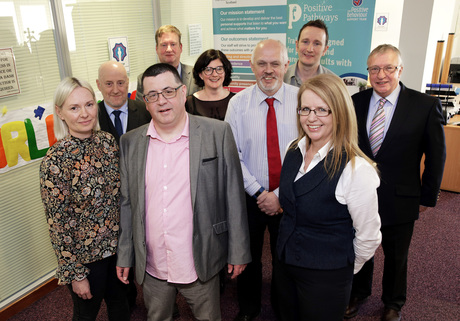 Back row L-R: Richard Ibbotson, TRFS Executive Director (East), Dr Anne MacDonald, Head of Complex Needs, MSP Fulton MacGregor, Middle Row L-R, Jim Taylor: Jim Taylor: knows autism, Austen Smyth TRFS Chief Executive, Jim Fraser, TRFS Chairperson Management Committee. Front Row L-R, Kara Christine, Artlink, Colin Williamson, public speaker, Catherine Lomax, parent of young women with autism.
We need to "try and get away from difference that divides us then we will all learn" Kara Christine, Artlink
"Press to the very end so the needs of our autistic children are not ignored" imploring people to listen, Colin Williamson, person with autism.
"Independence, self-determination & the opportunity to express one's liberating lifestyle choices" Jim Taylor of Jim Taylor: knows autism quoting Hardeep Singh Kohli
I couldn't believe how little I knew (or thought I knew) about autism and at the same time I couldn't believe how much Caroline and the team knew about autism. They would talk about certain traits and idiosyncrasies that had us all say "ah yes of course!" Catherine Lomax, parent, describing PBST family carers training (You can watch a YouTube video of her presentation here: https://www.youtube.com/watch?v=h_3LOgdjkjY)
To download a copy of our Autism Strategy 2017-2020 please click here.