St Clair Street Celebrates 20th Anniversary
Friday 21 July 2017
The St Clair Street Service in Edinburgh opened in May 1997 when it was commissioned by the Social Work Department to facilitate the closure of Gogarburn Hospital. Caroline, Tom, Ted & Alan had all been living in the same unit at Gogarburn and all moved into St Clair Street together.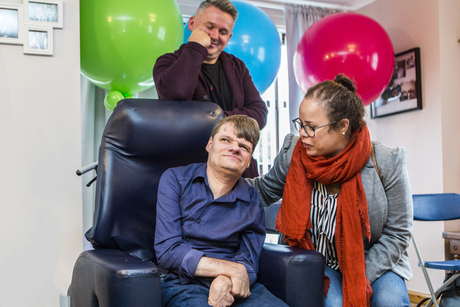 When we realised that it was their twentieth anniversary this year we decided to have a party! So we set about planning – caterers, waitresses, drink, decorations, invitations. As this really was a special occasion we also arranged to have a photographer for a few hours to capture some of the moments of the day on film. We hired a lady who had previously worked at St Clair Street and now has her own photography business. This worked very well as she knew Caroline, Tom, Ted & Alan and they knew her, so it was all very relaxed.
The party was well attended by family and friends of the people supported and lots of people who have been involved in their support, past and present - current staff, lots of members of staff who have moved on, previous managers, members of the Learning & Development Team, some of the ladies supported at the Nichollfield Service and their staff, and of course the present management team including Richard, our Regional Director.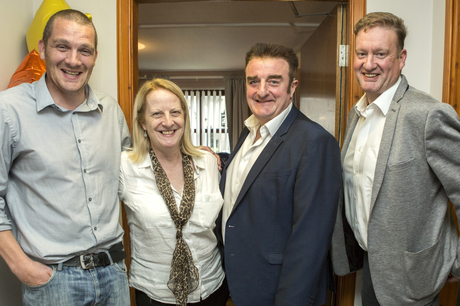 We were very pleased that our local MP, Mr Tommy Sheppard came along to meet everyone and to learn a bit about the St Clair Street Service as well as TRFS itself and the support we offer nationwide.
He was very pleased to have been invited and spoke at some length to Richard (Director) and Maria (SSW) about St Clair Street, TRFS and social care in general. I think he learned a few things!! He genuinely seemed interested in our work and in the people we support. He took time to talk to Caroline, Tom, Ted & Alan and also spoke to some of the staff. He also intends to talk about his visit in his July newsletter and has already tweeted about it!
The party started at 2pm and it was a great success – everyone seemed to really enjoy themselves – especially Caroline, Tom, Ted & Alan who really seemed to enjoy catching up with people who used to work at St Clair Street and they hadn't seen for a number of years. Guests came and went throughout the afternoon with the last few leaving around 8.30pm that night!
It really was a great day and hopefully the start of more parties to follow! Maybe not on so grand a scale though!! But Caroline, Tom, Ted & Alan definitely appear to enjoy a wee get together so why not!