Butterbiggins Garden Party
Thursday 14 September 2017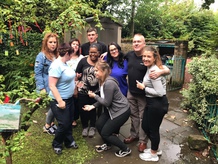 Getting a grade 6 for Quality of Care and Support and a grade 5 for Quality of Environment at Butterbiggins Road put us all in the mood for a party. We decided to have a garden party.
The weather wasn't great, but we made the best of it, fighting the wind and rain to erect our gazebo, under the instruction of our staff member and gazebo expert, Daniel.
The weather didn't dampen our enthusiasm and Vincent Iles (Executive Director)and Dale Houston (Area Manager) joined us to celebrate our achievements .
Vincent said grade 6's were becoming increasingly difficult to achieve and he thanked all the staff for their hard work. He also said that the grade of 'excellent' reflected this. Vincent also paid special thanks to Marjorie for her continuing hard work and dedication to her role over the years.
Noted and commended at inspection was the enthusiasm and easy manner of the staff team, the focus on health and wellbeing and the commitment to the recovery approach. Vincent said that it was all about the real impact the service made on people's lives, rather than grades awarded.
A crystal glass house was awarded to Susie Gadhia (Team Manager), Marjorie MacLarty (Senior Support Worker) and all of the Butterbiggins staff team in recognition of the inspection.
One supported individual spoke about how the service had made a great difference to his life and how he was now ready to move on and appreciated all of the support he had received over the years.
A close friend of another resident spoke very highly of the positive effect the Butterbiggins team had made for his friend and thanked everyone for their hardwork.
Susie spoke, thanked Marj and the team for all their efforts, acknowledging all the supported people and staff present and reflecting that our 6 was the culmination of years of very good inspections.
Everyone heartily tucked in to the buffet food and Marj cut the celebration cake, and made a wish. We weren't privy to what this was.... possibly another 6 next year!!!!!