TRFS team 'Real Richmond' win SFA Mental Health Football League trophy
Thursday 16 November 2017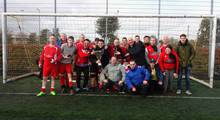 TRFS win SFA Mental Health League
TRFS have been involved in the SFA Mental Health and Well Being League since its inception 4 years ago. The league was a concept developed by the SFA to promote recovery through active participation in football.
The league consists of 12 teams and the competition is run on the same basis as the professional football leagues, i.e. points are awarded for wins, draws etc.
The league has been really well supported by Scottish football clubs, which has allowed teams to travel to grounds as far away as Aberdeen.
Balmoral Gate Service in Glasgow and William Street Dispersed Service in Greenock have a combined team called Real Richmond. The team is made up of supported individuals including Nathan McGonigal, team captain and is coached by support practitioners, Joe Cannon from Inverclyde and Robert O'Donnell from Balmoral Gate.
A few years ago, the team came last but lots of hard work and good coaching has seen a big increase in the number of people interested. This has allowed Real Richmond to field some very strong teams who have competed against good opponents across Scotland. Help for Heroes put up a good fight (literally).
The calibre of players and the skills of the teams we went up against shouldn't be underestimated but our hard work this year really paid off and lead to game wins. It was a close run into the final matches where each team upped their game to improve their position but hard work prevailed and the league trophy was ours.
The travelling supporters for the team should also be recognised for their encouragement and constructive criticism/ advice when things didn't go so well.
Real Richmond and a league win is an example of what can be achieved by a few people with a passion for something and a drive to achieve what once seemed impossible.
Our CEO, Austen Smyth, has committed to giving each person involved a framed team photo as a memento of a fabulous achievement. A celebration dinner and prize giving and a hand over of the trophy have also been arranged. The trophy will be shared between both services and Stepps. Well done Real Richmond!