Go Health & Safety Go!
Thursday 1 February 2018
Tony Priest, our Health and Safety Adviser, recently attended a PHASS meeting, which was held at Scottish Parliament. He looks very comfortable!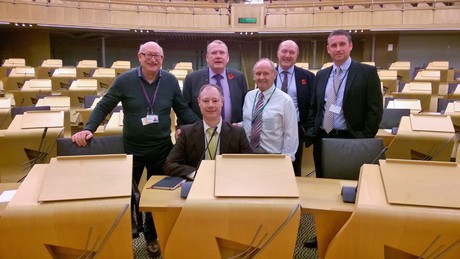 PHASS is a voluntary collaboration, which brings together Scottish government, health and safety professionals, trades unions, business and the voluntary sector plus local authorities and HSE as co-regulators. PHASS facilitates agreement with those people and organisations who best know the landscape for delivering action, who can contribute expertise and resources and who understand the starting point from which to define success. This involves its core membership as well as organisations across the Scottish health and safety community.

PHASS aims to:
Support tripartite collaboration between employers, employees and government, on workplace health and safety in Scotlandpromote the benefits to people, businesses and the Scottish economy of a safe and healthy working environment as a key component of fair worksupport and publicise action by the health and safety community in Scotland across reserved and devolved government objectives eg under the Scottish Plan for Action on Safety and Health (and Helping GB Work Well)"At TRFS we're delighted that Tony has ensured we have a seat at the table, where decisions are made about Health & Safety work.