Stephen's Story
Monday 21 May 2018
Stephen has made huge achievements since moving to his own home and, supported by our staff, he is now enjoying a much better quality of life, full of choice and meaning.
Prior to moving to Cherry Tree Court in South Lanarkshire, Stephen did not have the opportunity to interact with other people socially and was not able to take part in the activities he enjoyed. He now loves nothing more than to attend social activities with his neighbours and getting out and about in his local community. One of Stephen's favourite sensory activities is using sand and he now goes to the beach as often as he can (depending on our wonderful weather!) to lie and play in the sand.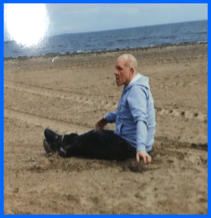 Stephen was supported on holiday for the first time in 55 years. Staff booked a log cabin in Perth and he enjoyed drives to Crieff, St. Andrews and Arbroath. Unfortunately due to his needs, Stephen was unable to be supported out of the vehicle. Staff organised the use of a wheelchair which gave him much more freedom to explore and take everything in. Stephen now has his own wheelchair to use which has given him a new lease of life. He now goes for his own shopping, goes out for dinner with his neighbours and attends activities and outings.
The next step for Stephen and his staff is to get him used to the local area. Once he is used to the environment, it is hoped Stephen will be able to leave his chair at home and walk safely around his local community.