Kim finds love and tells Scotland about it!
Wednesday 3 October 2018
Kim has come a long way in terms of gaining confidence and independence since her move to Rowan Wynd, and has had the support in place to become more aware of what she can do with her life and in her local community.
Living at Rowan Wynd has allowed her to make new friendships and to build new community connections, with the presence of support staff ensuring that she is able to make the most of these opportunities and to identify other things that would be open and available to her.
Kim had a long-held dream of meeting a boyfriend and of continuing and growing a relationship, but hadn't had the opportunity to understand and develop the trust, self-esteem and social skills to enable this to happen.
Through utilising her support to the fullest Kim has been able to get involved in a number of different social groups, and through this wide and varied social life she was able to meet different individuals with different personalities and get to know people on a regular basis. Kim's social calendar is filled with peer group meetings, working groups, evening clubs and dating events such as speed dating and "mix and mingle" events run by Dates-n-Mates, particularly enjoying the inclusive monthly club night LATE at the Garage in Glasgow.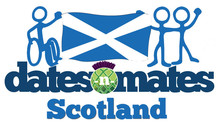 Through one of these Dates-n-Mates events Kim met a young man who she immediately hit it off with and has continued to develop a close bond with. Kim has him over to her flat for dinner where she shows off her fine cooking skills, an activity she particularly enjoys planning and preparing for. Kim has built up trust in her new friend and has been able to realise and do all the things she had hoped to do – she meets him to go to the cinema, bowling or out for a meal, and they regularly socialise at weekly evening clubs where they are a permanent fixture in the dance floor. At one evening social club night her boyfriend surprised Kim and everyone in attendance by stopping the music, getting down on one knee and popping the question!
Kim was recently invited on to the BBC Radio Scotland show "Mornings with Michelle McManus" to talk about her experiences when looking for love and to express just how happy she is now that she has found it.