Gig at the Gate
Monday 5 November 2018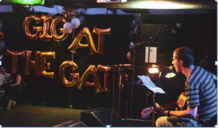 On Tuesday 26th June, Balmoral Gate and Glasgow West Housing Support hosted 'The Gig at the Gate'- an evening of live musical entertainment.

The event was hosted at Drygate Brewery where we had a private hall to ourselves. Staff and individuals from services across Glasgow and Scotland were invited to attend. All in all around 130 people were at the event coming from all over Rutherglen and throughout Glasgow.
The room was fully decorated with balloons, disco lights and a full stage. It was just like being at a gig, especially when the lights went low leaving the glow sticks to light up the room. The festival theme was further emphasised with the addition of glow in the dark face painting and bright clothing.
The night was a real variety showcase of local talent and entertainment. D.J and entertainer Gerry Lyons, fresh from the stage at Glasgow's TRNSMT festival, hosted the evening. Classic 'throw back' tunes played whilst people arrived and settled in to find seats, friends, and drinks. The atmosphere was buzzing and it wasn't long before Gerry and his group of entertainers got the acoustic set off to a start; breaking the ice before individuals and staff braved the stage.
Michael kicked off the acoustic set for staff and individuals by performing some golden oldies, which ended with a crowd of Elvis Presley fans getting up to the dance floor to shake it.

Next, 'Super troopers' Mel and Alex performed an acoustic rendition of ABBA with a great wee shout out to 'Glasgow'.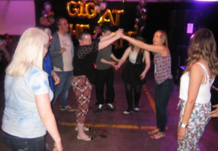 Then, luckily for us, the performance of one artist whose band couldn't make it was saved when Alex jumped in with his guitar skills to accompany her. Their rendition of Cher's 'do you believe' was a major hit, getting everyone either singing or dancing along - is it even possible to hear a Cher song without doing 'the voice' or the cheesiest 80's style disco dance moves?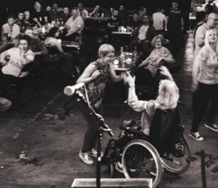 One particular notable moment was when one of the entertainers jumped in on a set with an old fashioned washboard and dancers began an impromptu strip the willow.

Graeme immediately grabbed everyone's attention as we listened intently to his original piece 'Harmony' written especially for the occasion. Graeme's finger picking style definitely made his performance one to remember, and offered dancers a well needed rest bite during his performance. Graeme says that he enjoyed performing but the nerves before stepping up on stage make riding the Pepsi Max in Blackpool a breeze in comparison.
A buffet was laid out and everyone helped themselves to a selection of foods. Each individual got 2 drinks vouchers which could be used for coffees, soft or alcoholic drinks.
The moment then arrived we had been looking forward to for weeks; Derek's debut D.J set. Derek's 'happy hardcore' tunes and mixing, matching, and switching skills quickly whipped up a crowd of cheering fans onto the dance floor. Derek's proudest moment was when he successfully spun and matched 2 vinyl records at the same time- DJ's at the clubs with their computers don't even do this! Derek feels the set went well and would perform again. We all hope to hear Derek at future events - don't forget us when you're famous Derek!
Gerry then introduced 'massaoke'- karaoke for the masses. Here, the lyrics to songs were put up on a full screen and everyone could sing along. People started to head home bit by bit at this point and The Beatles 'let it be' finished off the night.
Overall, the night went off with terrific success, and is a credit to the hard work put in by the individuals who worked hard in organising the event. Every week for months individuals at Balmoral Gate held organisation meetings. During these meetings everything from the venue, activities, entertainment and theme for the night was discussed, researched and then democratically decided. Balmoral Gate funded the event from their participation bid in 2017 where they were runners up and received £3,000 for their vision of 'The Big Bash'. Originally the concept was to hold the party on the Renfrew Ferry. However, armed with their research, field trips to investigate the location, and budget calculations, the group decided to go for Drygate Brewery instead - great decision guys! The event was opened up to the Region and had an impressive turnout with individuals from Woodside, Hinshaw, Greenock, and Rutherglen attending. This presented a good opportunity for people to expand their social circles, catch up with people they don't see often, and share a great night with plenty of friends new and old.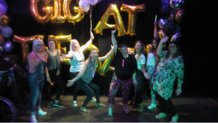 Special thanks to Ronnie who captured the night with his photography skills!