Our strategic plan 2012-15
Saturday 16 March 2013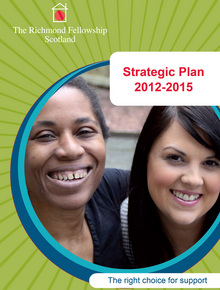 The Richmond Fellowship Scotland's strategic plan 2012-2015 has now been launched. We have spent some considerable time, both internally and externally, talking with valued people over what should be the focus for our energies over the next few years. All these conversations have contributed to the plan.

Within our strategic plan we have identified three key priorities we will be working on:
Making it personal
We want to ensure people are fully involved in determining, designing and arranging / controlling the supports they require, and that these achieve real and meaningful outcomes.
We want to achieve
As a provider of life enhancing supports, we are in a unique place to hear what people need and what we have to do. It isn't easy, but developing new approaches and being innovative in how we deliver services with our partners are important themes for us to grapple with.
Working better
We have achieved a tremendous amount over the last few years in terms of working better. Through this work, we are seeing the opportunities to work even better. Bringing technology to bear, further developing our people and focusing in on good practice will be themes that bring us improvements. We are ambitious to be the best at what we do, using all our resources for the benefit of people and their communities.

Our strategic plan is backed by a number of specific work streams. We know that times are challenging for people, their families and our partners across Scotland. Our aim is to continue to work in partnership, to measure our effectiveness and to work to get better at what we do.

Our staff are committed to working with people to achieve their outcomes. Our strategic plan, our mission and outcomes statement and our common values statement form the basis of our approach to the vulnerable people we work with.

Big challenges face all of us over the next few years. Financial pressures, self-directed support and the creation of Community Health and Social Care Partnerships will require us to adapt and innovate.

We are confident that The Richmond Fellowship Scotland can continue to be a successful and dynamic partner in these exciting times.