Paul
Paul has now lived in his flat a year. He has settled in well and participates with all household tasks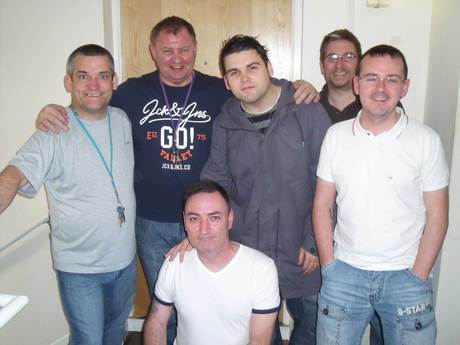 Paul is a 25 year old man who currently stays in his own one bed-roomed flat. Paul has been diagnosed with autism and assessed as having a learning disability.
Prior to moving into his own flat, Paul resided in a residential school for people with autism. Paul followed a programme with symbols representing activities and plans for his day ahead. He preferred to spend time in his bedsit with music, magazines and sensory equipment. He would attend a group for puzzle time and also spend time in the sensory room. He preferred time on his own and did not appear comfortable in the company of other supported individuals in the school.
Paul communicates through use of Signalong. He learned signs as he grew up and would have talk time with a Speech and Language Therapist for educational purposes.
Paul was well liked in the school by his support staff due to his good nature and bubbly personality. However, there were times when he would present with challenging behaviour. This could range from self-harm behaviours to physical challenges to staff. Challenges often arose from increased anxiety levels, task avoiding, repetitive signing and feeling unwell or in pain. This could occur frequently and a consistent approach was required.
While Paul was still living at his residential school, Richmond Fellowship Scotland staff began visiting him and started to do shadow shifts with the staff from the school. These allowed us to experience and observe what worked best for Paul along with learning all his signs. Paul gradually got used to us being present and started to build up relationships with us. Once we were comfortable and confident that we had enough knowledge to carry out daily support for Paul, we were allowed to deliver his program for the day with the school staff being second support.
We made preparations for him moving into his flat, putting detailed recording of our visits in allowing staff to read over these and become familiar with Paul's support needs. A copy of all the signs which he uses were put in place along with a sign a long guide book. Team meetings and group supervisions where held on a regular basis, discussions took place around Paul's needs and questions and queries were addressed. As a team we practised signing, encouraging each other to become confident to use this method of communication.
We also began to plan a comprehensive set of behaviour support plans for Paul. Structure and consistency works well for him so a detailed plan of how his program should be delivered was put in place. It was paramount that all the team were carrying this out accurately to enable Paul to be relaxed in his new environment. Weekly planners along with detailed support requirements were all in place prior to Paul moving in to his new home.
We also looked at the best way for staff to learn more about Paul before going to support him. The best way to put this forward was for them all to do a couple of shadow shifts with the staff who had done the familiarisation at the school. A rota was done in advance giving all the team the opportunity to observe how we worked with Paul and how we delivered his daily program over a two week period. Once the staff went into work with him, the Senior Support Worker observed and gave feedback to them, allowing us to reflect on how well this worked for Paul.
The Senior Support Worker who leads Paul's team has been working towards her Personal Development Award in Managing Positive Behaviour Support. For this she has been focused on improving Paul's support.
Paul has now lived in his flat a year. The communication system we use with him has been tailored to his needs and staff work consistently to make sure that he understands what is happening in his day. He has settled in well and participates with all household tasks.
At his residential school, Paul was used to his bedsit and only accessed other areas when it was meal time, this was to remove his food from the shared kitchen. When he moved to his new home he would remain in his bedroom and take his meals there, this reflected his previous routine. Allowing Paul to explore these new areas in his own time gave him the ability to cope with his surroundings. One day he was asked to take his tea to the dining table which he did with great pride, making happy noises showing facial expressions that said "I am happy". Since that day he has continued to eat all his meals in his living room and now uses all the rooms in his flat rather than just his bedroom.
Paul is getting used to the local area; he walks to the local supermarket three times a week to do some shopping. This has been a fantastic accomplishment for him as he travelled by car to carry out this task prior to moving in to his new home. Paul still goes for car outings visiting parks, beaches and other areas where he can walk around. He has joined the library, where he flicks through books and hires CDs.
Paul has presented less challenging behaviour when around his neighbours; he joins them for coffee and relaxes in their homes. He did not socialise in this way while living at the school. His confidence has grown and he has shown signs of communicating with another neighbour who is non-verbal using signalong.
Click here to find out more about how The Richmond Fellowship Scotland provides support to indviduals with Autism.